A picture is worth a thousand words
– Proverb
This proverb not only applies to many stunning images captured by press photographers, but it is equally true for informational graphics for academic grant applications. Learn how to convey complex ideas in easy-to-comprehend graphics that rapidly convey to reviewers and panel members the gist of your application without the necessity of reading the entire application. You'll come to understand how to use information in the communication of complex information through clear language and visuals.
Graphical excellence is that which gives to the viewer the greatest number of ideas in the shortest time with the least ink in the smallest space.
– Edward R. Tufte in The Visual Display of Quantitative Information
This How-to Blog is tailored to academics and people whose job it is to write grant proposals and present complex research findings via posters, talks and speeches. The idealistic goal of today's academic is to be fully funded and free to do the thing you love: conduct cutting-edge research. The realistic world for today's academic is a dwindling supply of federal funding competed for with lower and lower odds of success.
So why add a new skill set when you are already overwhelmed with must-dos? Simply this: To stand out in the crowd. To be noticed. To improve your grant's chance of being funded in the next round. Yes. Using sound design principles, you will communicate your data with the most visually effective graphs, tables and pictures. Think about this first: We humans live in a visual world where images are our most important means of communicating. Second, think about this too: For federal funding, the trend is a huge increase in the number of grant submissions at a time of flat funding, which has made the scientific review process a fast-track exercise for study sections. The stark reality of the grant review process is that only a small number of grants will actually be read in their entirety. Reviewers will scan the others and take a "look" at the images and graphics. That "look" may be your one and only chance to pique a reviewer's interest in reading more than just the abstract. Photoshop lets you create graphics that attract the reader's eye; images that tell a compelling data story; visuals that demand a second look. With Photoshop, time devoted to graphical design is a worthy communications endeavor not a distraction from writing time.
Good design is clear thinking made visible.
It's an attainable goal for every scientist, educator and academic.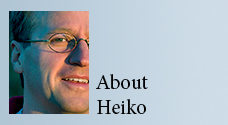 Heiko Spallek has been working with digital images since 1991. He is a member of the National Association of Photoshop Professionals, the BioCommunications Association and the Institute of Electrical and Electronics Engineers and works extensively with Photoshop to accomplish challenging image requirements of today's digital market.
Since 2016, Heiko has been the Pro-Dean of the Faculty of Dentistry at The Univeristy of Sydney, Australia. Prior to joining The University of Sydney, Professor Spallek served as Associate Dean for Faculty Affairs at the School of Dental Medicine, University of Pittsburgh and Associate Professor of Dental Public Health and as Executive Director of the Center for Informatics in Oral Health Translational Research with secondary appointments in the Department of Biomedical Informatics and the School of Information Sciences.
His research has as its focus the development of educational resources for dental professionals and the creation of online communities—he published more than 50 peer-reviewed papers and a textbook for Dental Informatics that has been published in Germany and in the US. His projects have a foundation in the fields of education, usability engineering, medical and dental informatics and computer science. He served as PI of several NIH-supported research projects aiming to improve the adoption of Evidence-Based Dentistry. In September 2015, Dr. Spallek received as principal investigator a US$900,000 federal contract from the National Institutes on Drug Abuse to develop a "Center of Excellence in Pain Education: Pain Challenges in Primary Care." The project brings together twenty-two faculty from five health science schools who collaborate to develop interactive virtual cases ranging from opioid misuse following wisdom teeth extraction to widespread pain & fibromyalgia. Dr. Spallek was elected as board member of the Consortium for Oral Health Research and Informatics (COHRI). He has serves as the chair of the Working Group 13.1 on Educational Software Used in Electronic Media for the American Dental Association's (ADA) Standards Committee on Dental Informatics (SCDI) as the sole representative of the International Association for Dental Research. Currently, he is the Chair of the Dental Informatics Section of the American Dental Education Association (ADEA) and serves as Secretary of the Board of Directors of the Consortium of Oral Health Research and Informatics (COHRI).
In 1993, Dr. Spallek graduated from the School of Dentistry, Humboldt University Berlin, Germany, where he continued his career and was appointed as a faculty in the Department of Periodontology and also received his PhD in the field of dental material sciences. While being faculty at Temple University School of Dentistry, Philadelphia, he earned an MSBA with a concentration in Computer and Information Science from the Fox School of Business and Management at Temple in 2000. Heiko is also a graduate of the American Dental Education Association's Leadership Institute.